It has installed 1275 photovoltaic solar panels in its hotels in Mallorca and Menorca that will generate 100% of daytime needs.
It has created a specific programme of integrated and innovative circularity in its hotels.
These two actions imply the reduction of more than 585 tons of CO2.
he Balearic company MarSenses Hotels & Homes is strongly committed to sustainability. In its second year of operation, it has launched several actions aimed at improving the sustainability of the company and its environment in the three main areas: economic, social and environmental.
On the environmental front, among other actions, it has become the first Spanish hotel chain in which all its tourist establishments will self-generate through solar panels 100% of their daytime energy needs.
In line with the environmental commitment set out by MarSenses Hotels & Homes in its CSR programme, Care by MarSenses, the company is installing 1,275 450 W photovoltaic panels that will generate 574 KWp and avoid the generation of more than 509 tonnes of CO2 each year. The installation is already operational in all its establishments.
"This project was in the mind of Francisca B. Vidal, our president since the beginning. Vidal, our president, since the birth of MarSenses and after the award of the ISO 14001 environmental certification, we have put it into action. With the photovoltaic energy panels, we aim to be more efficient and environmentally responsible. We are aware of the wear we generate to the ecosystem, and for this reason we have chosen cleaner and more ecological resources to cover the energy needs of all our accommodations" highlights Lucas Brill, Director of Quality, PRL and Environment of MarSenses Hotels & Homes.
The project has involved an investment of 800,000€ and will be installed in the following hotels:
– MarSenses Puerto Pollensa Hotel & Spa: 358 panels in Mallorca, representing 161 kWp.
– MarSenses Rosa del Mar Hotel & Spa in Palmanova in Mallorca: 233 panels, representing 104 kWp.
– MarSenses Ferrera Blanca Hotel de Cala d'Or in Mallorca: 294 panels, which represents 132 kWp.
– MarSenses Paradise Club Hotel de Cala en Bosch in Menorca: 390 panels, representing 176 kWp.
The panels will be located on the roofs, also serving as insulation against solar radiation and reducing the need for air conditioning of the buildings during the day.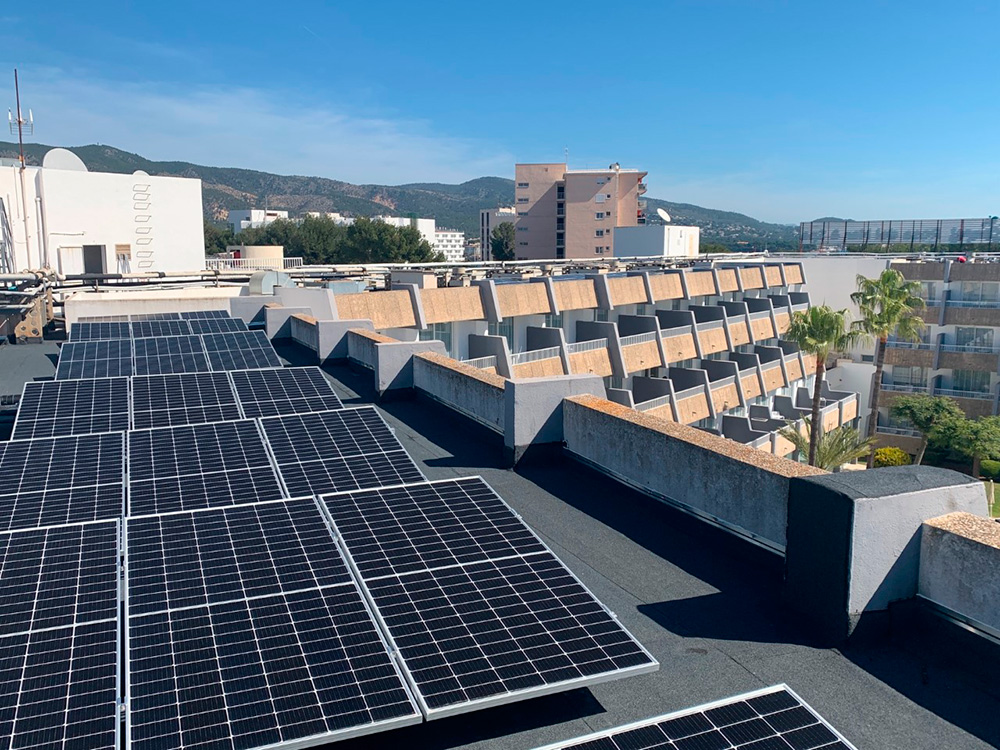 This project is in addition to the one already presents in the holiday rental Cas Metge Matas by MarSenses, in Santa María del Camí, which will start operating in the summer of 2022, and which consists of 56 panels and.
From a social point of view, this installation allows 100% renewable and clean energy to be fed into the electricity grid during the off-season, covering the energy needs of more than 265 families.
As for the ReCare by MarSenses circularity programme, items from the refurbishment and improvements of the hotels have been reused and reconditioned, giving them a second life in the hotels themselves. These items will be identified in the hotels.
For everything that cannot be reused in the hotels, the company has signed a collaboration agreement with the Deixalles Foundation. This Balearic Foundation employs people at risk of social exclusion and aims to recondition, transform, and recycle items of all kinds. Under the agreement, MarSenses donates its surplus goods, which, once transformed in its workshops, will be bought back, and used or sold in its accommodation. This year, the company has donated 519 tons of materials to Deixalles, resulting in a reduction of 74.9 tons of CO2 emissions.
In the words of Rodrigo Fitaroni, general manager of the chain: "At MarSenses Hotels & Homes we are constantly looking for improvements in our work operations by focusing on the three main pillars of sustainability: economic, social, in particular improving the quality of life of our employees and external groups at risk of exclusion, and environmental by focusing on the responsible consumption of resources and the circularity model".